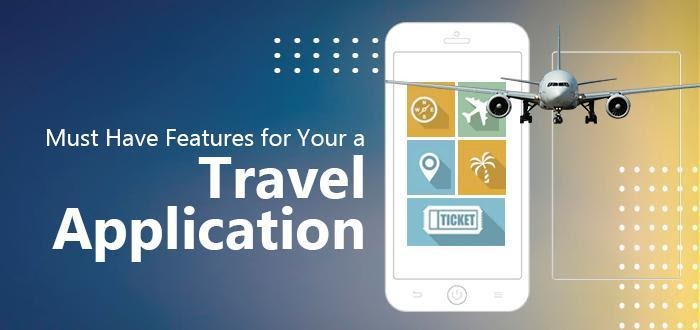 TOP FEATURES FOR YOUR TRAVEL APP IN 2022
Read Time:
3 Minute, 44 Second
Today, mobile applications play an indispensable role in almost every business industry, including travel.
According to recent research by eMarketer, travel-related mobile applications are the 7th most downloaded category, with 60% of smartphone users preferring to organize their leisure excursions using travel mobile apps.
As a result, travel mobile apps must have a better UI/UX design with a few key features. Here are some points from our research, and we produced a list of the most important features for a travel app.
TRAVEL ITINERARY GENERATOR
One of the most requested services in the travel business is a trip itinerary generator. Users may use this tool to construct a full trip itinerary by simply entering the destinations they want to visit.
Admins may use this functionality to integrate existing tourist sites or even create unique landmarks to build a tour route for users. It may appear tough to incorporate such a sophisticated algorithm feature. As a result, you'll need to hire an expert mobile app development company.
GEO TRACKING SERVICES
One of the most essential aspects of travel application development is the integration of GPS-based location services. Users can utilize tracking services to lock their current position and instantly retrieve the closest results. You may provide all types of services to tourists on a journey if you include this function.
WEATHER FORECASTING
Most visitors schedule flights, but owing to climate change, they may have to modify their plans. Travel mobile applications with real-time climate forecasting features can guide travelers to avoid such situations and plan that accordingly. Tourists may view forthcoming weather forecasts when building a travel itinerary and arrange their journey appropriately.
LANGUAGE TRANSLATOR
One of the most challenging features to add to your travel app is an in-app language translator. The majority of tourists are unfamiliar with the regional languages of the destinations they wish to visit. This function can improve the user experience by allowing passengers to scan texts for visual translation, as well as translate voice and text communications.
CURRENCY RATE CONVERTER
A currency converter is necessary and one of the most important features of a travel app. Tourists have a lot of difficulties while converting their currency. This tool can assist visitors in understanding currency conversion rates. It can also keep track of current and historical currency rate fluctuations.
WORLD TIME CONVERTER
Because of the time zones, you'll be traveling, including a global clock time converter in your travel app is essential. This function will clear up a lot of ambiguity for visitors and will prevent them from looking for alternative time converter apps. This function, which determines the right clock timings for different time zones throughout the world, may be very beneficial to users.
BOOKING SERVICES
Another incredible feature to add to your travel app is booking services. This isn't only limited to hotels and hostels, but also includes in-city tourist attractions and museums. Users anticipate finding the greatest discounts on tickets and lodging using their favorite travel applications.
By including travel booking, hotel booking, and tour booking directly from the app, tourists don't have to be in the havoc of searching different platforms. Customers' loyalty will also increase.
REVIEWS AND RECOMMENDATIONS
When visiting a new place, most visitors prefer to visit non-touristy regions or places frequented by residents. After all, this is the only way to truly grasp the essence of a city or region. Consider including trip reviews and travel advice in your travel app. Flag the reviews of local guides or local public to let your visitors know about such unknown places too.
EMERGENCY CONTACT LIST
When life throws an emergency at anyone, it doesn't care if they're in an unknown city or not. With local emergency services, visitors may be certain that they will know where to find local hospitals and police stations no matter where they are traveling. Simply provide a feature that lists the phone numbers for all emergency services in the region.
CONCLUSION
Creating a successful travel app will include incorporating features that will make every traveler's journey much simpler. You want to think like a traveler while simultaneously advertising your brand and company, whether it's a trip diary to keep track of their daily activities or transportation services to bring them securely to the next station. Travel app development should be precise to keep your customers loyal to your brand. Hire an expert development company for your travel mobile app.